Product Line Card
If you are looking for something unique with lots of character, you might be interested in our reclaimed lumber products that consist of barn board, antique lumber, hand hewn old beams from abandoned factories, barns and houses beyond repair. Many of these woods can be used in a number of applications such as weathered barn-board for paneling, or hand hewn beams that could be used as a fireplace mantle. We stock reclaimed Chestnut, Long Leaf Heart Pine, Hemlock, Spruce, Oak and Elm to name a few. What we don't have here, we have plenty of ready to ship materials from our off site locations. Our offering of reclaimed lumber can also be turned into custom wood flooring and planking products as well as custom wood mouldings. Enjoy the rich history of these by gone treasures as well as contribute to the environment by repurposing, recycling and reusing these materials as well as reducing the need for landfills.
We have an extensive inventory of reclaimed lumber of all types.
Another of our unique offerings is live edge lumber also known as boules that we harvest and saw locally. These are kiln dried and we have access to a variety Walnut, Cherry, Soft and Hard Maple, Red and White Oak, Ash, Hickory, Sassafras and anything else harvested locally that has a unique look. Our stock is always changing in this product category.
With our rough sawn Native lumber, we can provide boards, beams and heavy timbers in Eastern White Pine, Red Oak and White Oak, Eastern Red and White Cedar. Whether you need barn siding, fence posts and rails, trailer decking, lumber blocking for heavy equipment, or rough sawn beams for timber framing, we can custom mill to your specifications.
Feel free to stop by and browse! No pressure, no worries. If you don't see a product that you are in need of, let us know. We have a vast network of mills and agents throughout North America and around the world.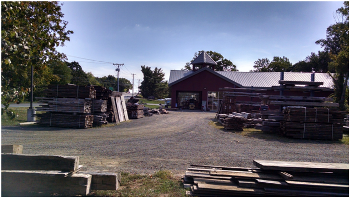 We stock a full assortment of
reclaimed beams and timbers
For those in the trades-feel free to use our facility as your facility. We encourage you to bring your customers here to view the possibilities! For the consumer who has a design idea but needs assistance in having it made, we can refer you to our many trade customers who can make that idea come to life!
For those who require deliveries we offer in house deliveries, as well as LTL and Truckload service throughout the US.

We opened in July of 2011 and we are constantly upgrading our assortment of products and services to meet your needs. Please feel free to give us feedback as to how we can better serve you.
Thanks,
The Stangel Family
-John and Patrice Stangel

If you don't see something - tell us - WE'LL GET IT FOR YOU!

RECLAIMED LUMBER:
Barn Boards
blended weathered, silver gray, brown, faded red, faded white,
Boards
brown, White Oak, Red Oak, Elm, Redwood, Spruce, Hemlock, Chestnut, Pine, Mixed species
Beams-Hand Hewn & Sawn
Flooring
reclaimed, reclaim and milled. Mixed Oak, White Oak, Heart Pine, Chestnut, Walnut, Cherry, Elm
Doors
Interior Doors, Barn Doors
Misc: antique nails and hardware
HARDWOOD LUMBER
NATIVE LUMBER
Rough Sawn from Native Woods (Eastern White Pine, White Cedar, Red Cedar, Red Oak, White Oak, Locust, Maple, Birch) BOARDS, BEAMS, FENCE BOARDS, STAKES, MANTLES, TRUCK DECKING, STAKES
BOULES
(LIVE EDGE SAWN LOGS)

BURLS SLABS
CUSTOM FLOORING(NEW)
Domestic and Exotic
SEASONED FIREWOOD